Arc, the global events, data, and media company backed by investment funds managed by EagleTree Capital, announced today it has acquired Renewable Energy Events Ltd., a portfolio of events and media assets serving the sustainable farming sector, which includes Low Carbon Agriculture (LCA).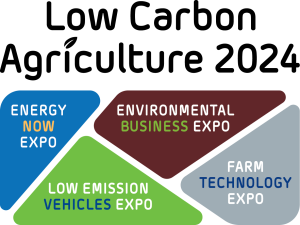 LCA is comprised of four co-located events, Energy Now Expo, Environmental Business Expo, Farm Technology Expo, and Low Emissions Vehicle Expo. These content-led exhibitions will become a part of Arc's Agriconnect business, which produces the Farmers Guardian magazine and organises events including LAMMA, Croptec, Future Farming Expo, and Farm Business Innovation. This acquisition adds depth to Arc's presence in the key sustainability sector in agriculture.
LCA founder, David Jacobmeyer, will work in partnership with Agriconnect to continue developing the event within the farming community as well as providing thought-leadership about renewables, low carbon solutions and environmental best practices.
"We've seen tremendous growth and interest in both clean energy and low carbon sectors since we launched our first event in 2010," commented David Jacobmeyer. "The farming community has a critical role to play in reaching Net Zero, and there is an ever-growing need for farmers and landowners to come together to find ways to boost production sustainably. I am looking forward to both the growth of Low Carbon Agriculture and working closely with Agriconnect to help guide farmers through this huge period of change."
Nick Ornstien, Managing Director of Agriconnect, added "Agriconnect prides itself on being not just 'for' the farming community but 'of' the community.  Within our own teams, as well as throughout our diverse customer community, we've seen increasing interest for information about sustainable practices and plans in farming. That's why I am so delighted to have LCA become a part of Agriconnect, and I am truly looking forward to partnering with David to continue our focus on this important sector in farming."
Canson Capital Partners, an Arc founding partner, served as financial adviser on the deal.
###
About Arc
Arc is a B2B events, data, and media platform, backed by investment funds managed by EagleTree Capital. Founded to redefine business networking, Arc organises over 150 events a year and operates critical content platforms in HR technology, agriculture and food, financial services and investing and education technology. Arc has over 350 talented colleagues located in the U.S., U.K., Netherlands, and Singapore who focus on seeking out new ways to connect communities, wherever, whenever, or however people need to come together to grow their businesses. For more information, visit www.arc-network.com or find Arc on LinkedIn.
About LCA
Low Carbon Agriculture is designed to help farmers and landowners achieve a profitable and sustainable future through the generation of renewable energy and the implementation of low carbon technologies and best practices. The next event will take place on 6 – 7 March 2024 at the NAEC, Stoneleigh, and has four defined areas to explore: 'Energy Now Expo', 'Environmental Business Expo', 'Low-Emission Vehicles Expo' and 'Farm Technology Expo.' For more information visit www.lowcarbonagricultureshow.co.uk.
About EagleTree
EagleTree Capital is a leading New York-based middle-market private equity firm that has completed over 40 private equity investments and over 90 add-on transactions over the past 20+ years. EagleTree primarily invests in North America in the following sectors: media and business services, consumer, and water and specialty industrial. For more information, visit www.eagletree.com or find EagleTree on LinkedIn.
Contact
For more information, contact Caitlin Read [email protected].